If it's a Tipperary Walking Festival you're looking for then it's a Tipperary Walking Festival you've found.
The Rhododendron Walking Festival takes place each year in the Knockmealdown and Galtee Mountain ranges of south Tipperary each year.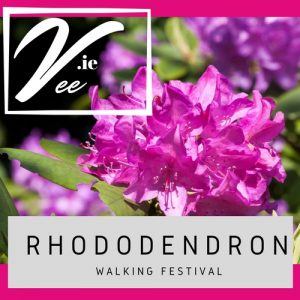 The Festival coincides with the flowering of the Rhododendron plants that have taken over large stretches of both ranges, the Knockmealdowns in particular.
Flowering season for these non-native and invasive plants is the latter part of May and beginning of June. This coincides with the June Bank Holiday weekend in Ireland, so this is when this particular Tipperary Walking Festival is held.
In summer 2018 the inaugural 'Rhododendron Walking Festival' took place along the tracks and trails of the Knockmealdown Mountains and surrounds. The event was a huge success and is being held again in 2019 over the June Bank Holiday Weekend.
You can also keep up to date with the Rhododendron Walking Festival at our Facebook Page – Facebook.com/VeeWalks. or via our Twitter account at Twitter.com/VeeWalks.
Tipperary Walking Festival